Game streaming services are something of a hot topic at the moment, with big names like Google, Nvidia and Sony all trying to get in on the act. These types of services shift the burden of doing all the heavy lifting away from your PC and into the cloud, but with each of them tending to take a different approach, it's not easy to know exactly what to expect from each cloud gaming service until you sign up. So, to help make things a little clearer, here are 5 game streaming services that you might want to know about…
GeForce NOW
Although GeForce NOW has been in beta for several years now, it is only in the last few weeks that it has gone live as a fully-fledged cloud gaming service.
The idea is simple, GeForce NOW provides a library of selected games and you can play any that you already own. Usually, this just involves selecting the game in the GeForce NOW client, which launches a streamed desktop where you log into Steam or whichever service you own that game on. Launching the game from there will start the game on Nvidia's cloud services with the gameplay being streamed back to you.
The selection of games can be a bit spotty with a few glaring omissions – Blizzard Activation has abruptly withdrawn their entire catalog of games, for example – and the client's interface is a bit clumsy to use. But, most importantly, the streaming itself is pretty solid.
The only real wrinkle is the availability of playtime. There are only a limited number of machines available to stream from so occasionally you will need to queue until one becomes available for your game to spin-up on. But more than that, you are limited in how long you can play for. While it is great that there is a free service for anyone to use, free users are limited to just 1 hour a day. Or for a paid upgrade, you can play for up to 5 hours a day.
Check our GeForce NOW playlist to see some of our FBX recordings made while playing via Geforce NOW.
Shadow
Shadow is an interesting game streaming service that we've spoken about before. Unlike the other services on this list, Shadow doesn't give you access to a library of supported games that are just click and play. Instead, it gives users access to their own virtualized Windows desktop in which they can install whatever they want – all powered by top-end gaming PC hardware (so if you want, you can use it for much more than just cloud gaming).
Of course, all that power and flexibility doesn't necessarily come cheap. There are a couple of different pricing options available with a new top tier coming soon which will make RTX 2080 cards available for users who really do want every drop of horsepower they can muster.
The only real inconvenience of the remote desktop approach is that it does require some management. Depending on which subscription you have gone for, you will have a limited amount of disk space to install games to. If you want to be actively playing more than a few games at once, you may quickly find yourself needing to juggle which ones are installed. It's only a minor pain but not one you have to worry about with any of the other services on this list.
Google Stadia
I don't think this game streaming platform needs any introduction. The trials and tribulations of Google Stadia have been well documented by just about everyone – hit and miss performance, promised features missing, no free version launched yet and a general lack of games (at the time of writing it is something like 7 weeks since the last new release).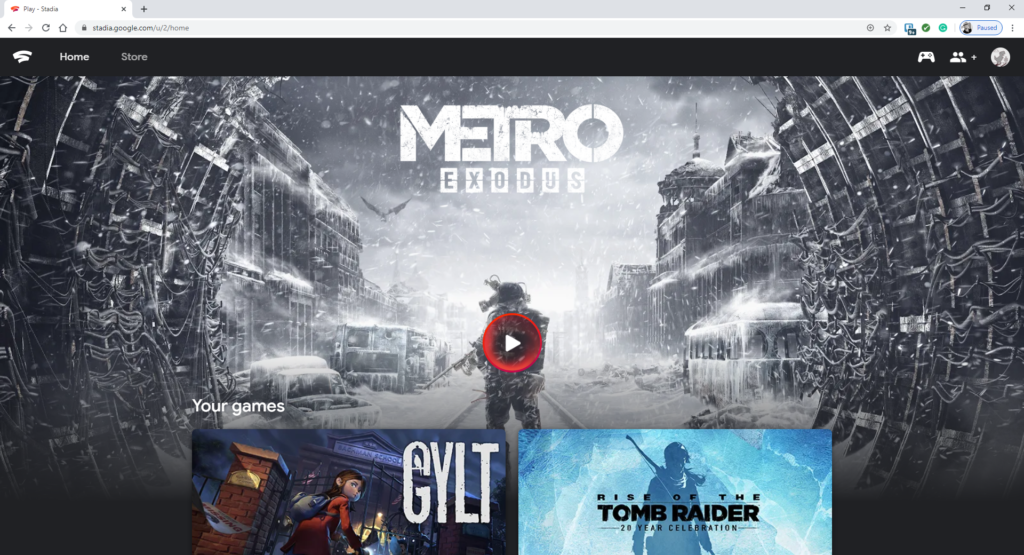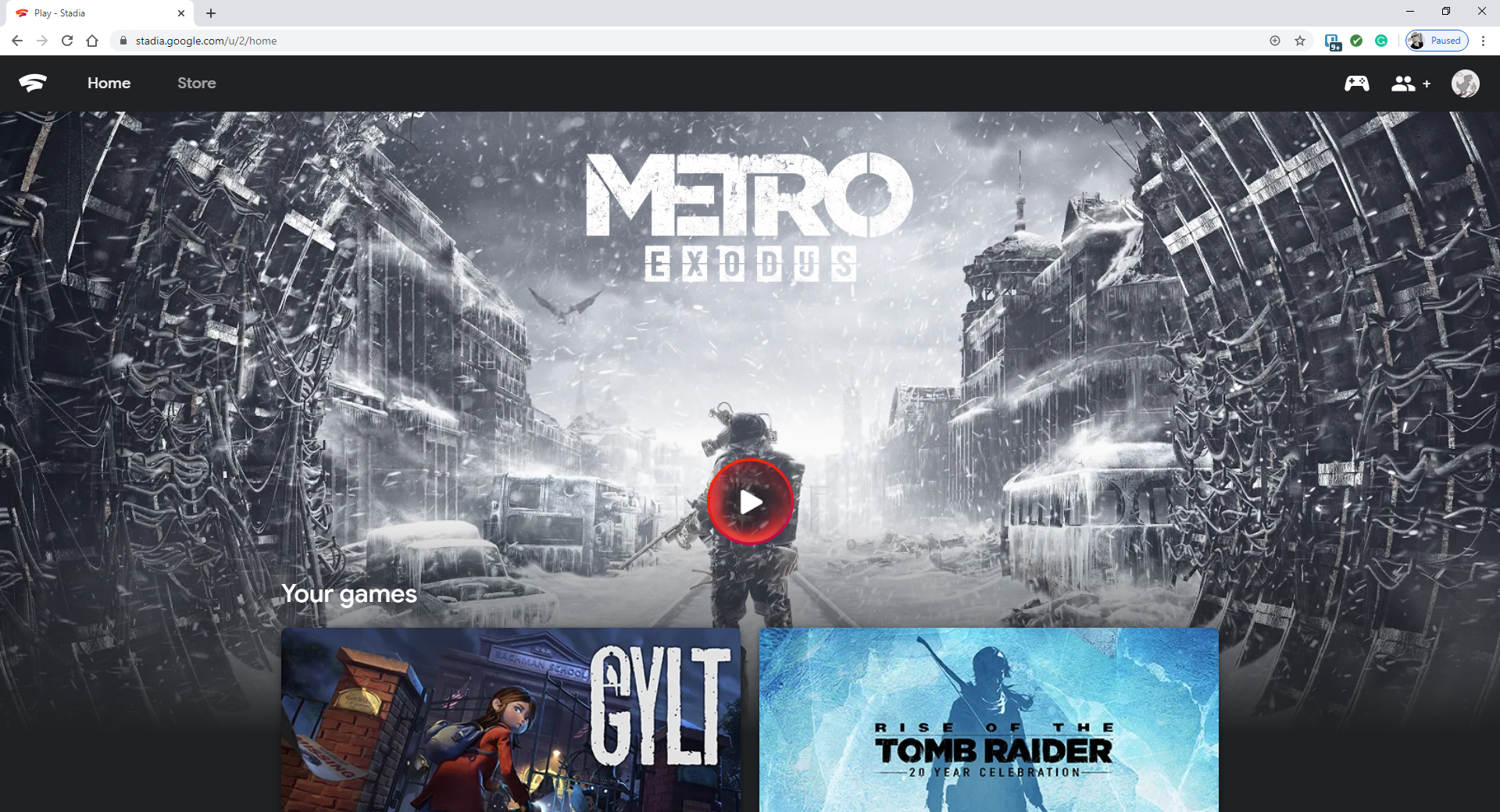 Essentially, it is currently going through a glorified beta stage and, if Google had badged it as such, consumers would have been far more forgiving of all of the above. Especially since there is a lot of potential to the cloud gaming tech that Google has developed to power it and none of the above cannot be fixed.
There's just always the worry that Google would rather cut their losses and move on than get things back on-track – they don't have the greatest track record when it comes to that after all…
Check our Google Stadia playlist to see some of our FBX recordings made while playing Google Stadia in our Chrome browser.
Playstation Now
Very much going down the 'Netflix of Playstation games' route that many expected Google to do with Stadia, this is a monthly subscription that gives you access to a library of Playstation games, both exclusives and multi-platform games, that Sony claim comes to over 700 available titles.
In that regard, it is much like what you get with Microsoft's Xbox Game Pass except that you stream the games instead of installing on your PC – you just click Play for your chosen game, wait a few seconds for the game stream to fire up, and away you go. So more or less just a cross between Xbox Game Pass and GeForce NOW.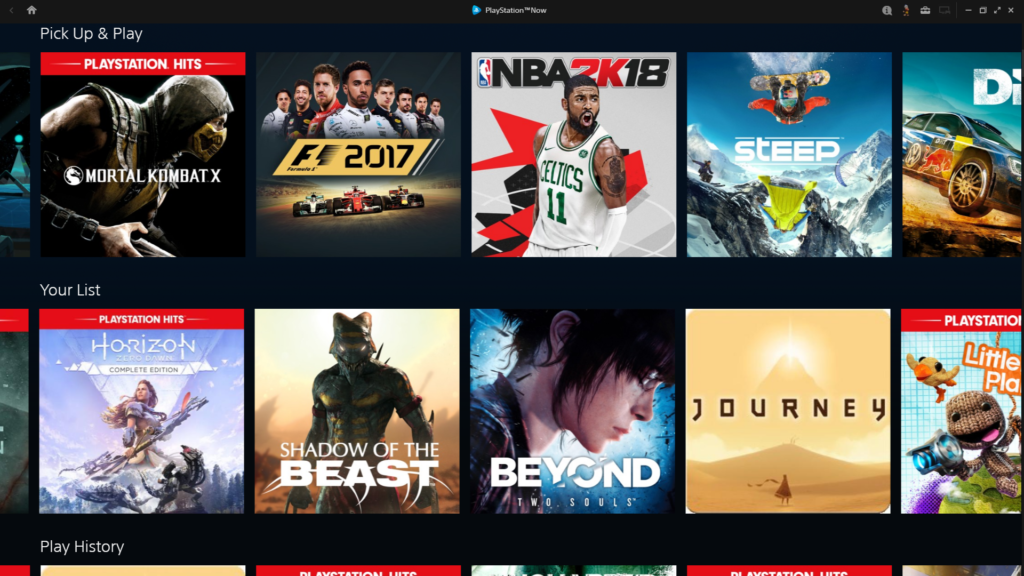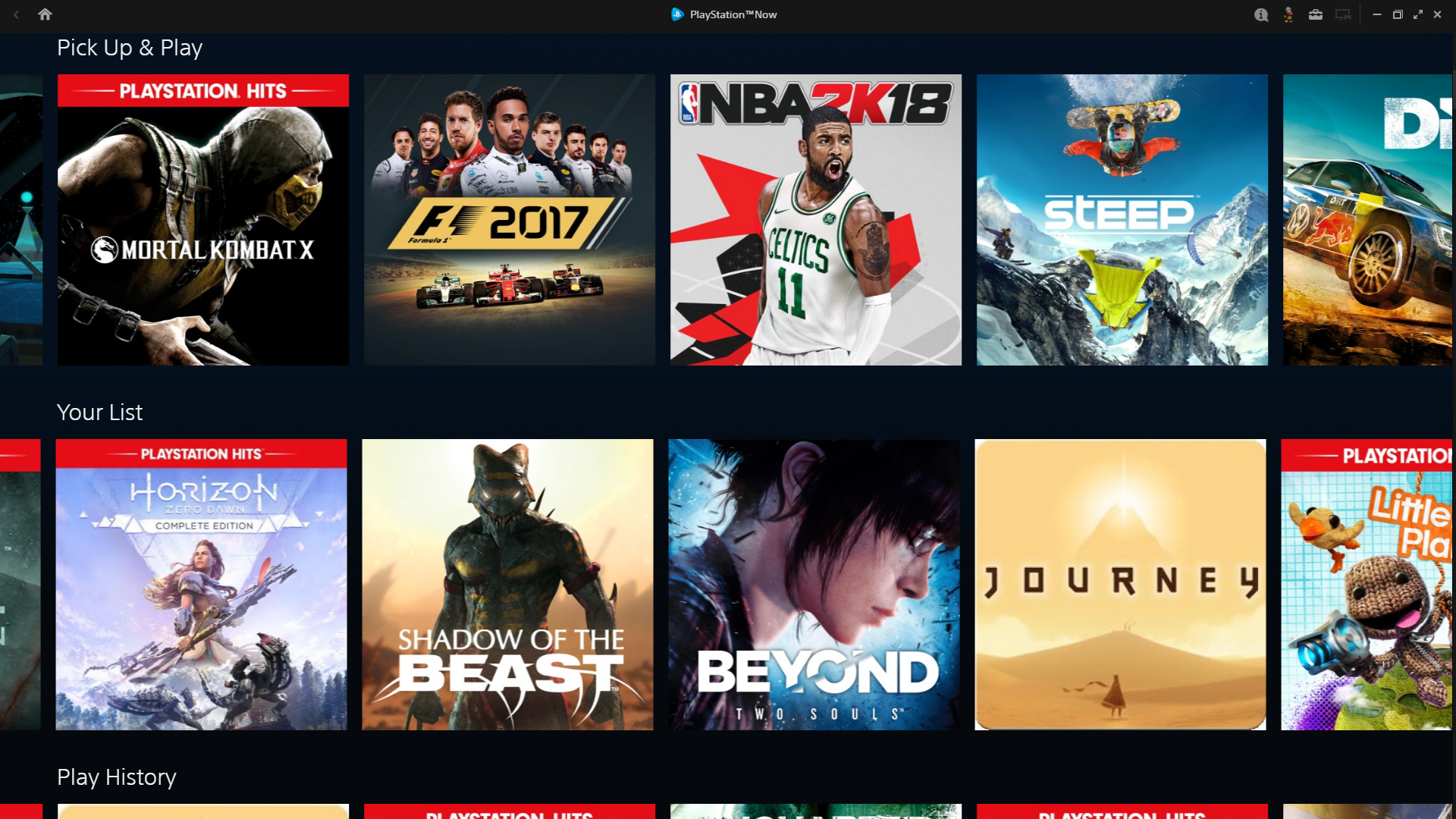 And like GeForce Now, the performance is pretty solid. In fact, there's not really much more to say about beyond that. It just works. Well, it just works as long as you are using a Dual Shock 4 controller. If not, you may find that any of the PS4 games that require the Dual Shock 4's touchpad suddenly become completely unplayable (good luck getting more than 10 minutes into Until Dawn with any other controller).
Also, just be aware that not only do Sony bring new games to the service, but they also remove games too. If you wanted to play the latest God of War, for example, you are going to be disappointed because that has now disappeared from the library with something else taking its place.
Check our Playstation Now playlist to see some of our FBX recordings made while playing via Playstation Geforce Now.
Xbox Game Streaming
OK, so this one is a bit of a cheat because it is not a cloud streaming service at all. Rather, it's just a feature of the Xbox app on Windows 10 that allows you to stream your gameplay from a paired Xbox One console to your PC.
Nevertheless, it's still a good option for letting you play (and of course record with FBX!) your favourite Xbox One exclusive games on PC, especially if you already have a subscription to Xbox Game Pass which will give you access to a fantastic library of game. So we felt it was worth mentioning because Microsoft really hasn't made consumers as aware of it as they could have and it often flies under the radar as something that players are completely unaware of.
It's worth noting that Microsoft does also have its Project xCloud service currently in beta, which they are promoting far more heavily. Project xCloud certainly doesn't qualify for this list though since it is targeted at allowing gamers to play console games on their tablets and other mobile devices, not their PCs (even allowing them to pair with an Xbox One controller to their mobile to help reproduce the console experience). But, with that being said, it is still certainly an interesting proposition for game streaming of a different variety so still worth mentioning.